Ask The Pro
We are always happy to provide advice on a number of pickleball topics. Below are some frequently asked questions. If you did not find an answer there, please Ask our Pros
Q: What is the difference between composite and graphite paddles?
A: Composite paddles are slightly heavier than graphites. Usually we recommend composite paddles for harder shots and graphites for the finesse shots.
Q: What's the difference between indoor and outdoor balls ?
A: Duraballs are usually used for outdoor play and are made of harder plastic for durability with smaller holes for better wind resistance. They come in yellow, orange, and white. Jugsballs are typically used indoors, because they are softer to prevent injury and bounce less for better play length.
Q: How are pickleball paddles tested as legal ?
A: At Pickleball International, we sell only paddles that have been tested by the USAPA for deflection(meaning how much trampoline effect is emitted from a paddle's core). This is done to give no player an unfair advantage.
Q: Do I need any special equipment besides a pickleball paddle ?
A: A separate pair of indoor court shoes is advisable and comfortable gym clothing (t-shirt, shorts, seats), and a water bottle to stay hydrated.
Q: I've seen people wear a glove on their hand. Why ?
A: Some players wear a leather golf glove or racquetball glove to provide maximum grab on your pickleball paddle when sweating.
Q: What is the difference between indoor and outdoor pickleballs ?
A: Indoor balls (usually Jugsballs) are softer, and have larger holes. The outdoor balls (dura) have smaller holes so as to not catch the wind, are harder which allows for a greater bounce on outdoor courts.
Q: Can we play pickle ball on outdoor tennis courts ?
A: Yes you can ….. With some alerations. The teni court lines are larger than a pickleball court so you would need to draw the lines in with chalk. The net is the same 36″ but nees to drop to 34″ in the center.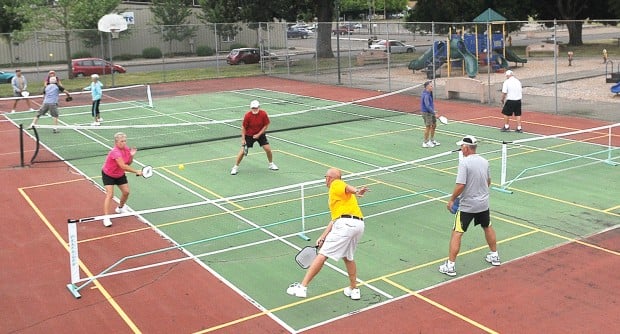 Q: I need a thicker grip on my pickleball paddle. how do I do this ?
A: You can purchase thicker grips as replacement grips or grips that go over your existing grip. You can get them from our website. Please contact us and we'll set you up.
Q: Won't buying a factory 2nd paddle mean it's defective and will affect how I play ?
A: Factory 2nd paddles are brand new but have some minor flaws such as color bleed or scratches. These minor flaws in no way affect the performance of the paddle and can save you $$$$$.
Q: What are typical weights for pickleball paddles ?
A: Paddles typically weigh from 6 oz (light), up to 9 or even 10 oz. Most paddles average in the 7 to 8 oz range.
Q: Why would I want to have a light paddle ?
A: Lighter paddles are ideal for fast volleys at the net, smaller players for kids. The best thing to do is to experiment with different types, weights, shapes, sizes and construction materials to find what type of paddle works best for you. Each individual is different.
Q: Don't the edge guards on pickleball paddles get in the way when you're playing a game ?
A: 90% of pickleball paddles are sold with edge guards which protect the outer portion of the paddle. While they may occasionally deflect a ball, if you're hitting the ball with the edge guard you need to work toward learning to find the sweet spot on the paddle and work at hitting that are for your shots.