Below is from the I Am Water Ocean Conservation Trust. Their new website will be launched in July, so please check back and help support this great cause.
The I Am Water Trust was founded in 2010 by passionate ocean lovers who believe that mankind and nature cannot survive without each other.
South Africa has one of the most spectacular and diverse coastlines in the world, yet very few South Africans have access to this magnificent aquatic wilderness. The Trust is committed to sharing total ocean submersion with as many of our countrymen and women as we can. To hear, read or see a picture of the beauty and devastation of the ocean environment can never replace the personal transformation of putting on a mask and fins, taking one breath and experiencing the salty majesty of the ocean, the strength of the currents, the playfulness of a dolphin or the curiosity of a seal.
As all humans are over 90% water, we believe that we are drawn together by the aquatic within us. We are all water, and we all share the opportunity and challenge to protect our last wilderness beneath the waves. The I Am Water Trust aims to do this through education and awareness. We endeavour to spread the love and protection of the oceans through introducing South Africans to the ocean environment, while we work untiringly to raise awareness around important conservation issues.
The Team
Hanli Prinsloo – Freediver, Speaker, Writer
Hanli is an eleven-times South African freediving record holder, filmmaker and avid ocean adventurer. She has a background in acting, documentary filmmaking as well as thirteen years of competitive freediving experience. Her filmmaking work has taken her into the front-lines of social political conflict all over Africa, from Burundi to Uganda, South Africa, Rwanda and Zimbabwe and more. Hanli is a strong believer in the greatness of the human spirit under the toughest of circumstances, having seen beauty and hope flourish where least expected. This has inspired her to leave the camera behind and focus all her energy on ocean conservation through human experience. Using freediving as a tool, Hanli has trained an array of top athletes from rugby players to swimmers and surfers- working with mental toughness, mind over body control and consciousness. Her work with the world's top big wave surfers has won her international recognition and acclaim. Believing in the power of storytelling and inpiration, Hanli shares her experiences through motivational speaking, guest appearances and corporate team building. She has been nominated for (amongst others) the Cosmo Awesome Women of the Year Awards, Outthere Adventurer of the Year, Gsport's Women in Sport, Mail & Guardian Top 200 Young South Africans as well as a 'strider' in the Johnny Walker Celebrating Strides Awards.'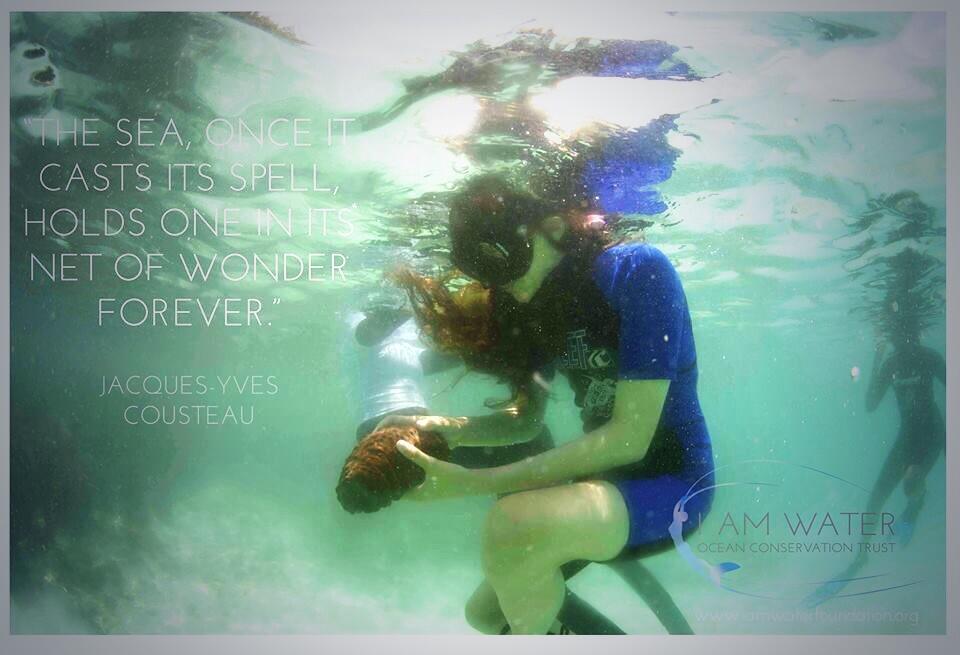 Peter Marshall - Swimmer, Freediver, Videographer
Peter Marshall is a world-class swimmer, ocean lifeguard, freediver, and underwater videographer with a heart to serve others. After graduating from Stanford University Economics Department, Peter chose to pursue his dream of swimming professionally. He rose to the top of the swimming world and had the privilege to travel to more than 25 countries. Peter is the current 50 meter backstroke world record holder (SCM) and in his seven years as a professional swimmer, Peter claimed 2 World Titles, 8 World Records, 11 American Records, and enjoyed 11 consecutive years of being a member of the USA National Swim Team. In 2011 Peter decided to retire from competitive swimming and began a journey of using his water skills to serve others. When the Los Angeles County Ocean Lifeguards offered a chance to serve the beach communities in LA, Peter jumped at the opportunity to use his skills as a swimmer to help prevent drownings in one of the USA's biggest cities. As a densely populated coastal city, Los Angeles is in constant need of competent Ocean Lifeguards. Through the LA Country Fire Department the LA Lifeguards have taught Peter invaluable life saving skills and emergency response while also passing on their vast knowledge of the ocean, experiences invaluable in the work Peter does with I AM WATER.
Megan Cook – Freediver and Global Coordinator
Megan Cook was raised in the desert of Boise, Idaho more than 500 miles from the nearest ocean. Growing up in an athletic, water-loving family, she developed a zest for adventure and respect and curiosity about the natural world long before the ocean came into her life. Originally inspired to explore the ocean by her first grade teacher, Megan has pursued knowledge around the world. Megan holds a Bachelor of Science with High Honors from Oregon State University in Biology, Chemistry and Marine Biology. She established an international scholar exchange with James Cook University in Australia and conducted research science from tall-ships on the open ocean. Her interest in understanding the relationship between humans and oceans led Megan to global-scale projects managing marine debris, tracking changes in reef ecology and mitigating damage of invasive species. Recognized as an emerging leader of underwater fields, Megan was selected to be the 2012 North American Rolex Scholar from the Our World – Underwater Scholarship Society. Immersed among global leaders of research, media, conservation, industry and exploration Megan was enlivened by the opportunity to build bridges and share compelling ocean stories. Always eager to share her knowledge Megan is a scuba instructor, scientific diving trainer, technical diving ambassador, videographer and science storyteller. As part of the I am Water team, Megan continues to pursue opportunities to communicate the wonder, vitality, and drastic change alive in today's underwater world in accessible, innovative ways.
Olivia Symcox – Surfer, Freediver, PR specialist
As a competitive provincial bodyboarder, duty lifeguard and provincial surfer, Olivia "OJ" Symcox initially grew up fearing sharks. Everything changed on one of her first ever scuba dives, when a large tiger shark swam up to her and it was love at first sight. She now spends as much time under water as she does riding waves and is dedicated to changing beachgoer's perceptions of these majestic creatures and promoting ocean conservation. Through her well established media contacts, daily radio surf reports, and weekly newspaper columns, Olivia is committed to educating the public about sharks and the issues facing our oceans. She also uses her own PR consultancy business and sporting profile, to assist and promote responsible shark reporting in the media. From her custom "Sharks Eat Fish" surfboard which sparks conversation in the water to her PR work around sharks and conservation, OJ is dedicated to making a difference and dispelling the shark fears of those who enter the water.
Sally Jackson – Conservationist, Freediver, Trust Administrator
For Sally, the wilderness (whether it is in the ocean or on land) is the ultimate place to be both spiritually and physically. Sally has travelled and lived abroad for many years, experiencing different cultures, peoples, oceans and landscapes, but South Africa has drawn her home to her native Kwazulu Natal. It was through Hanli's freediving course on the KZN South Coast where Sally got to experience the ocean in a new way which resulted in a lasting ocean addiction. With an extensive background supporting charitable trusts, most notably Dr Ian Player and the Maqubu Ntombela Foundation, Sally has decided to work full-time with conservation issues close to her heart. As a trustee of the I Am Water Trust Sally will be able to use her experience and creativity to help conserve our incredible and unpredictable ocean wilderness.
Iain Ewing – Conservationist, Freediver, Founding Trustee
Iain is a Director at the Ewing Trust Company Ltd, but is also a passionate and proficient freediver and spearfisherman. Iain did Hanli's freediving course and made the link between freediving, conservation and a trust. With an extensive knowledge and background in investment planning, trust management as well as law, Iain is a great asset to the I am Water Trust Team.