Surfin' San Diego
To be honest, we aren't giving away any hidden coves or secret breaks. These are the surf spots everybody knows if they surf in San Diego County. With the summer swell season approaching, here's a surfer's top 10.
Imperial Beach Pier
Imperial Beach Pier
is a beach break with good mid- and high-tide rides both right and left but tends to be crowded when surf is up. It's popular enough to merit surf cams on both north and south of pier. Check water quality before going as ocean pollution from Mexico can be an issue. After surf: Tin Fish on the pier for deep-fried fun or Ye Olde Plank Inn for libations.
Sunset Cliffs
Most of
Sunset Cliffs
is not for beginners and the surfers there will tell you so if you get in the way. There are plenty of coves with their own unique breaks and that draws a crowd of typically experienced surfers. The rocks and rips can be brutal in some places . Do your research and watch for a while before picking a spot. After surf: You're driving because there's nothing but park land and homes along the entire strip.
Ocean Beach Pier
Ocean Beach Pier
is a newby's paradise, crowded but friendly. The main beach break just north of the pier is for "Surfers Only," which means you'll find everyone from experienced shredders to European first-timer tourists from the OB Hostel trying out rental boards. After surf: Hodads for burgers or for a view of the action, South Beach or Wonderland.
South Mission/Pacific Beach
From the Crystal Pier to the Mission Bay Jetty are more than two miles of beach breaks for all ranges of surfers. In the off-season, crowds are light because it is so spread out, but forget it when the tourists arrive. Waves are consistent but rarely spectacular and there's plenty of parking. After surf: Fish tacos at Sand Bar near Belmont Park or PB Shore Club at the pier.
Tourmaline Surf Park
Tourmaline
is a leisurely, pleasant place to surf with long, slow rides and few hazards. Problem is, everybody with a surf board has figured that out, so it is crowded. Better to paddle north to the point or south past the pump house. After surf: The parking lot is like a mini surfer swap meet where stories and tips are shared, or take a short walk toward Crystal Pier and find about 1,000 restaurants and bars.
Windansea
Between Bird Rock and La Jolla are a series of reef breaks, with
Windandsea
being the most notable thanks to its famous surf shack, big barrels and a long list of pro surfers who call it home. Lots of rocks and a powerful crash zone mean you might might to leave this one for the locals when the waves get big. After surf: There is no after surf at Windandsea. Just watch and learn.
La Jolla Shores/Scripps Pier/Blacks
A surfer could begin and end his career on
La Jolla Shores
, with gentle beginners waves in the south graduating as you move north. Surfing by the pier is challenging but Blacks is yet another step up and should be attempted only by the most experienced surfers. After surf: If you have the cash, the Marine Room on Spindrfit Drive is a must see for dinner. Otherwise, burritos at El Charro on Avenida de la Playa.
Del Mar
Anywhere from 15th Street north to
Del Mar's Dog Beach
you'll find some gentle right and left beach breaks that are suited to all levels of surfers. After surf: While a bit pricey, Jake's Del Mar is just north of 15th and the view is unbeatable.
Swami's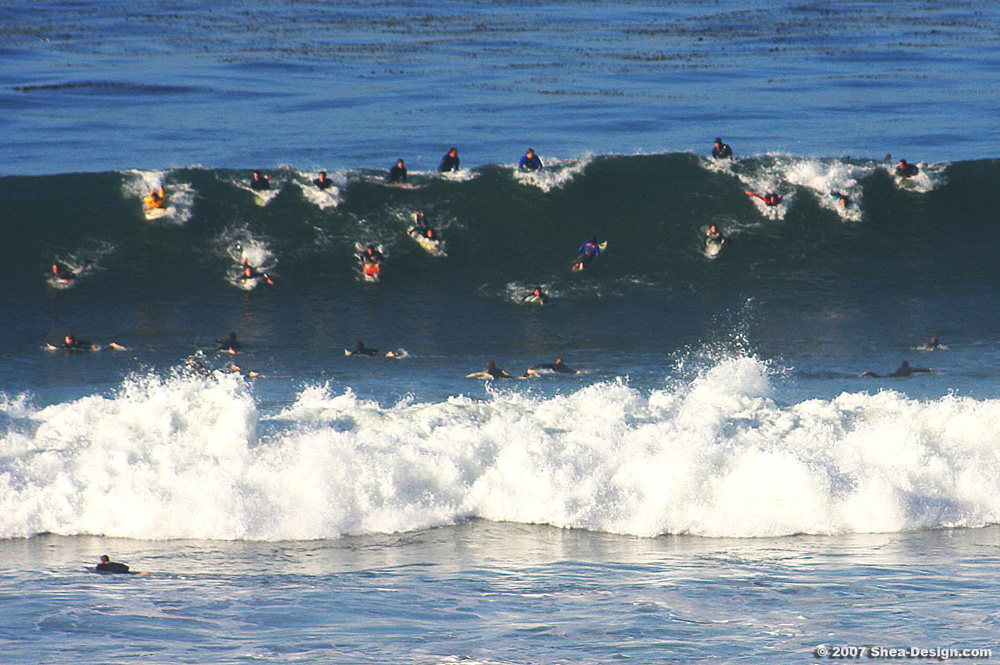 Swami's
is a rock-and-sand-bottom right point-break far offshore below the Self-Realization Fellowship that attracts far too large a crowd for the one very nice wave that rolls through. After surf: Encinitas Ale House is just around the corner for burgers and beer, lots of beer.
Moonlight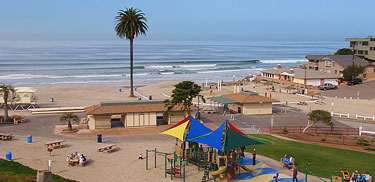 One of North County's better kept secrets is the fast wave south of
Moonlight Beach
at the end of D Street in Encinitas. For something a little easier, head north of the parking lot where even beginners can catch a ride. After surf: You are just north Encinitas' South Coast Highway business district and a number of quirky shops and eateries, or hit the concession stand right on the sand.