Play Bossaball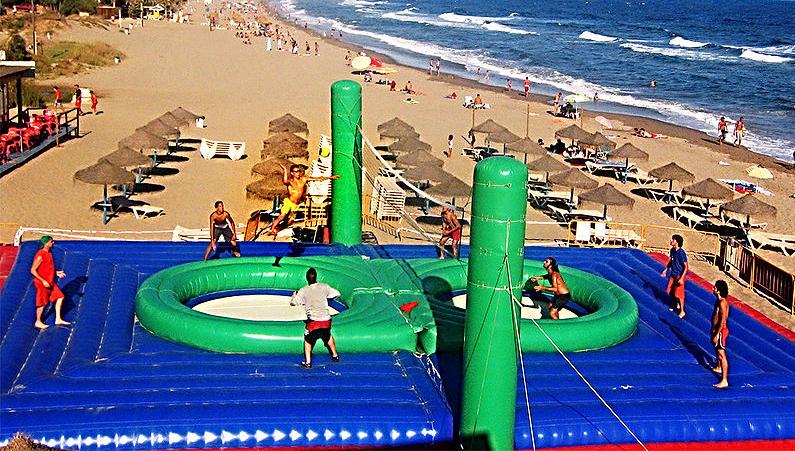 Play bossaball; it mixes soccer, volleyball, gymnastics and capoeira, and is played on a big bouncy trampoline-like surface. Teams have between 3 and 5 players, and it works like volleyball: the ball is hit back and forth between the two teams. You're allowed to use your hands, but flipping backward and scissor-kicking the ball is even cooler. Music is a must.
Edge Walk at Toronto's CN Tower
Dive Bahama's Blue Holes
Dive
Bahamas' blue holes
. Blue holes are roughly circular, steep-walled depressions, and so named for the dramatic contrast between the dark blue, deep waters of their depths and the lighter blue of the shallows around them. The deepest blue hole in the world—at 202 meters (663 ft)—is
Dean's Blue Hole
, located in a bay west of Clarence Town on Long Island, Bahamas.
Cliff Jump:
Elephant Butte Lake is located in
Albuquerque,
New Mexico
and is one of the most beautiful cliffs that you can legally jump from. Climb up to the top for a gorgeous view of the desert and become instantly refreshed as soon as you jump into the pure lake water below! Not to mention the fact that New Mexico has the best Mexican food we have ever had! Seriously, the best.
Learn to Surf: Summer is a great time to take up some fun and new hobbies. This summer "hang ten" and learn how to surf with an instructor! Even if you don't get it right away, this is an amazing workout for every muscle on your body and gives you have an extra excuse to spend all day at the beach! On the West Coast Malibu is an amazing option while on the East Coast our favorite surf spot is Wrightsville Beach, North Carolina.
Yes, this is an actual thing. People actually do paddle toward waterfalls rather than away from them. On purpose. They actually do fully intend on riding that thing all the way down.
Pitting themselves against one of mother nature's most powerful forces, waterfall kayakers are true athletes in the purest form. From the physical capacity to stay balanced and upright – or get there once you've flipped – to the survival mentality, to downright fearlessness, they're warriors.
Snowboarding's younger, sexier cousin. Same family, different houses.
The ace up winter's sleeve was boarding, but Summer ante'd up with this dune-dominating alternative. With nothing comparable to a chair lift on desert dunes and beaches, sandboarders make the trek to the top before launching themselves down the slopes and hiking back up again.
Shred up some sand if you get that nostalgic itch for a snowy mountaintop.
For most people, Shark Week is about as close to the shark experience as they ever want to get.
Others like to be up close and personal. Best friends.
Submerged under the ocean in a cage of galvanized steel, this diving experience puts you face to face with the enemy of surfers everywhere. While most cage dives don't require a scuba license, the mental toughness of a shark cage diver is put to the ultimate test.