Four-time champion Roger Federer got on two rolls Thursday night. One of his rolls gave him a stranglehold of his quarterfinal match against Kevin Anderson, allowing Federer to roll to a 7-5, 6-1 victory to reach the semifinals for the eighth straight time.
At 5-5 in the first set, Federer won seven consecutive games and eight of the final nine to close out Anderson.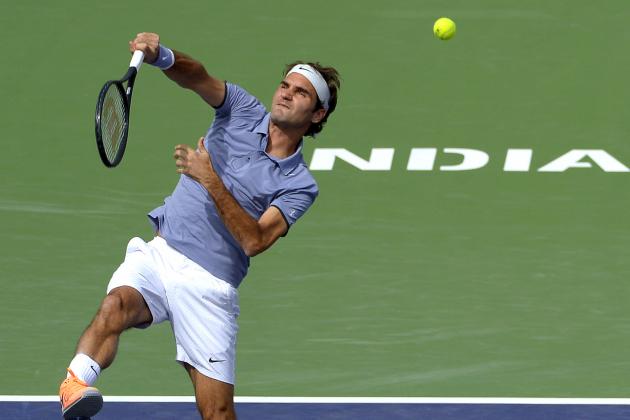 "Gave myself chances and started with a few more returns in play, I guess, at 5-All. I was just also now in the match at that point, feeling good movement wise, feeling good absorbing his pace," Federer said. "Then (I was) also being aggressive myself. I think the combination there in those 10 minutes, they all worked out for me. So it was big to win the set and then to go on to break early in the second. Then double break was like a bonus. From then on I was home basically."
The other roll Federer got on was in the post-match press conference when he was asked about on-court coaching, which is allowed on the women's WTA Tour, but not on the men's ATP Tour.
And Federer made it clear he hopes it stays that way.
"I really hope it doesn't (happen). I really do. Hanging on. If it does happen, it's hopefully after I'm done playing," Federer said. " I really don't think it's necessary. I don't think it's fair maybe necessarily, because not everybody can afford a coach.
"We'll see girlfriends walking out, we'll see parents walking out. It's not going to be pretty, you know, It will look amateur like in my opinion. Yeah, I hope we'll stay as far away from that idea."
But Federer also said he saw some benefits in the women's game. With the coaching, it adds commentary and analysis for the telecasts.
Then Federer quipped, "Clearly when the coach comes on and they go on a three game losing streak, that wasn't helpful.
"I think tennis could or should be one of those unique sports where you don't get coaching."
Federer will face giant killer Alexandr Dolgopolov in the semifinals on Saturday.
Dolgopolov has been a bracket buster, beating No. 1 Rafael Nadal, No. 10 Milos Raonic and No. 13 Fabio Fognini en route to the semifinals
Federer said he had been hitting with Dolgopolov in Dubai prior to Indian Wells.
"He was playing really well in practice," Federer said. "He really takes the ball early. He likes to take advantage of the fact when there is a short ball he just smashes it, and he's got a great serve. He's super athletic. Maybe the hard work is paying off right now."